Authentic Self Empowerment through Emotional Intelligence
Emotional Intelligence is a science and practice that applies to all challenges in life. Whether you find yourself at home, on the front line, in a precarious position, or filled with uncertainty for the time being, Emotional Intelligence will support you on many levels.
This course is for people dealing with stress-inducing pressures, loss, conflict, or difficult people. It offers tools and resources that will not only get you through challenging times but will help you thrive beyond them.
It is also for businesses that want to help their leaders and employees learn to cope in ways that keep the company thriving with the least amount of stress possible. A harmonious workplace, where people know how to handle change, conflict, give feedback and build rapport, will positively impact productivity and results.
Approaching any type of relationship without emotional intelligence is like trying to drive with the parking brake on. In business, dissatisfied employees cost U.S. companies $1 trillion yearly due to attrition. Happy employees are 12% more productive.
Learn how to:
➤ Deal with pressures at work or home – change, lack of resources, difficult personalities – with greater confidence and skill.
➤ Experience, understand, and express emotions appropriately, creating trust rather than discord.
➤ Create a corporate culture or personal environment that supports strong leadership, creativity and cooperation.
Put Your Emotions to Work - Click Here to Try a Free Sample
What to Expect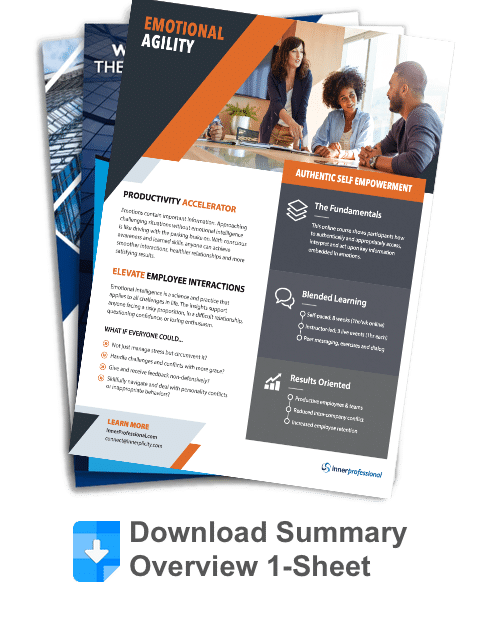 Emotions at Work teaches participants how to cope with one of the most important, yet daunting aspects of being human at work.
The eight weekly lessons include videos, questionnaires for self-reflection, exercises, and assignments. There will also be four live, instructor-led video calls where participants learn techniques best taught face to face and get the opportunity to ask questions and share personal experiences within a supportive peer group.
When understood and managed positively, emotions can be a tremendous asset for developing high functioning relationships and optimal productivity. When misunderstood and mismanaged, they can be one of the most detrimental liabilities professionals and organizations can experience.
What is distinctive about this course
The concept of Emotional Intelligence is commonly known, yet when asked, "What are emotions?" most people do not have a ready answer beyond "feelings." This course provides a clear, concise education on what emotions are, how they manifest and why we need to harness the inherent information within our emotions in order to live our best life.
Participants will learn scientifically-based core principles that lay a foundation for Emotional Intelligence (EQ) that are often missing from other EQ training. Once the foundation is laid, participants will then have a context for the tools, techniques, and skills that follow and which can be applied in a myriad of workplace circumstances. This, in turn, leads to an integration of the knowledge learned that is natural to the individual's personality.
"I keep going back to your workshop when I feel like I am falling into my old patterns. You made a huge difference helping me navigate work relationships."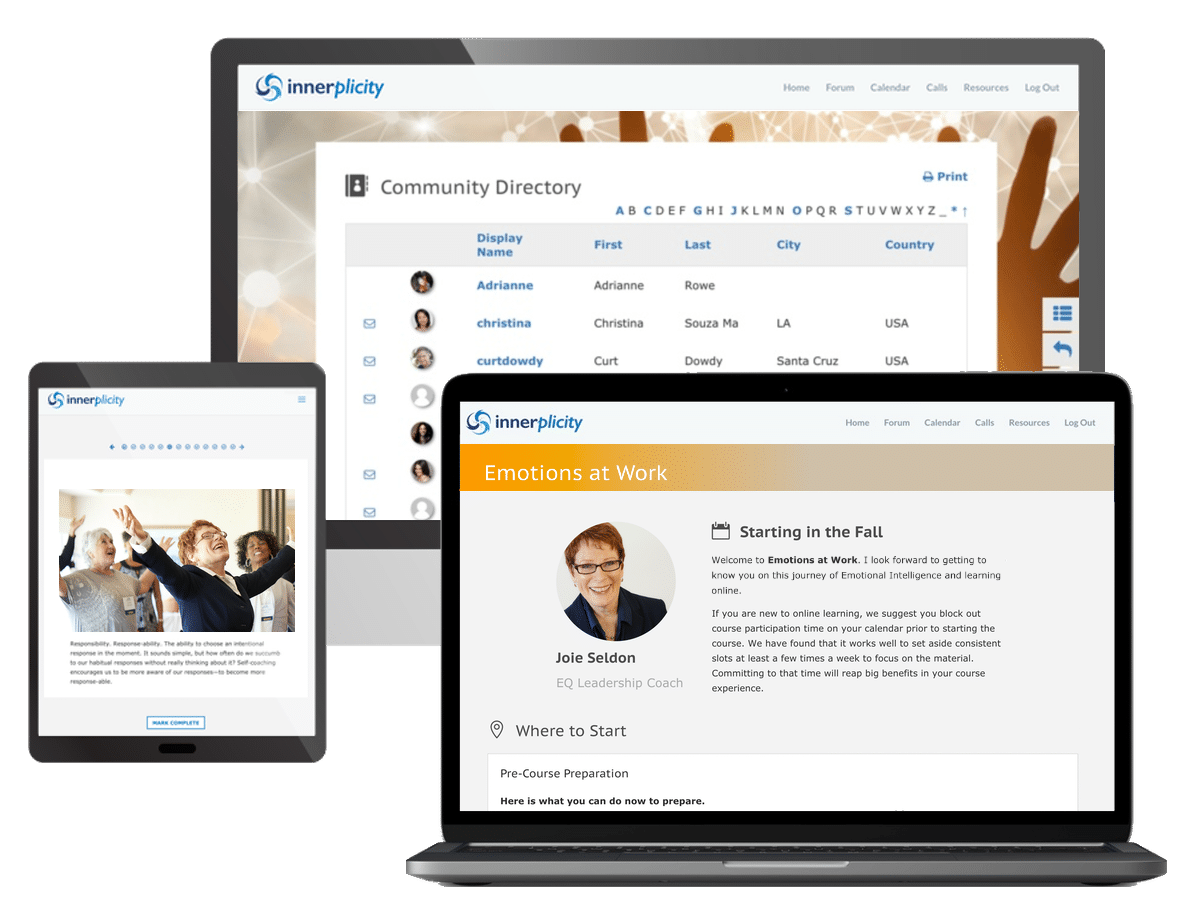 Target Outcomes
➤ Studies have shown that people with high Emotional Intelligence have greater job performance, leadership skills, and work more harmoniously with colleagues.
➤ There are two essential areas of impact. The relationship one has with one's self and the relationship one has with others.
"Thanks for the great class. God knows I needed it. Dealing with emotion has never been one of my strong suits."
SELF – Participants will be able to:
Understand how their emotions drive their behavior
Be more fully present with what is happening
Make conscious choices rather than automatic reactive ones
Receive input from others in a mature and non-defensive manner
Not only manage stress but prevent it or keep it from building in certain situations
Navigate pressures due to deadlines, working with remote teams, personality conflicts and more with greater ease
Increase self-confidence in previously challenging situations
Be flexible and handle unexpected changes
OTHERS – Participants will be able to:
Communicate more effectively, especially when having difficult conversations
Set appropriate boundaries
Have greater empathy
Improve team cooperation
Contribute to a more harmonious work environment
Realize improved social skills
Lead more effectively
"When you understand and speak the universal language of emotions, in a manner that is appropriate, it brings about optimal results for both you and those you are interacting with." ~ Joie Seldon
---
What workshop participants have said:
"I worked with Joie in her emotional intelligence process. I was able to release what was holding me back. I realized my business had suffered for five years as I choked off parts of me, and it is now being re-born."
"Working with Joie was amazing. I always knew that emotions were powerful but they always felt mysterious and elusive. I now understand my emotions in a practical tangible way. I can identify them and allow them to flow more freely. Thank you Joie, this information has changed my life for the better."
"I think Joie is particularly skilled at bringing energetic and non-tangible principals into the world of work; providing a framework for changing one's experience of emotions and business."
Self-Awareness
Module 1: Building The Foundation – The Truth About Emotions
Even though emotions are integral to every choice we make and action we take, most people don't know exactly what emotions are. To be self-aware, learning how emotion manifest in the body and what message specific emotions are bringing you is key to lasting Emotional Intelligence.
Module 2: It's All About You!
This module debunks misconceptions about emotions that keep you from being in charge of your experience. You will learn how emotions can guide you to actions that are beneficial for you and with those whom you interact.
---
Self-Management
Module 3: The Practicality Of Emotion Management
Being able to name what you feel when you feel it allows for conscious action, rather than automatic reactions. Understand the difference between controlling your emotions and being in charge of them.
Module 4: Tips, Tools, and Techniques for Handling Emotions
Handling emotions is like riding a bike; the more you do it, the easier it gets. Learn how to be appropriate at work without suppression or overwhelm, how to mitigate stress, and how your body is the hardware and your brain the operating system.
---
Social Awareness
Module 5: EQ Is A Two–way Street
When recognizing other people's feelings, why it's essential to develop objectivity, and how to have empathy without sacrificing yourself.
Module 6: Getting Along With Others
Unacknowledged emotions have a huge impact on productivity. Learn principles for building rapport and giving effective feedback.
---
Social Management
Module 7: Boundaries
Setting clear boundaries with respect is key to your ability to cope with any situation. Learn best practices for productive conversations and giving feedback that is well received and receiving feedback without receive defensive.
Module 8: Communication That Gets Results
Learn how to process emotions without having to express them, keys to developing trust, and ways to handle conflict.
Course Instructor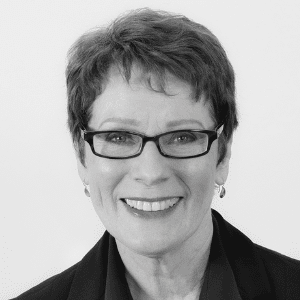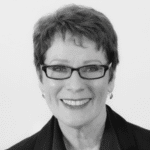 Joie Seldon
Joie Seldon, M.A. is the author of EMOTIONS An Owner's Manual. Regarded as an electrifying speaker, she has presented to worldwide audiences online and onstage. Joie brings to this work decades of experience as a trainer, leadership coach and expert in Emotional Intelligence. She regularly teaches executives and business professionals how to benefit from one of the most valuable yet underutilized aspects of a successful career, their emotions.
Joie Seldon once dreamed of becoming a movie star. Her struggle for that dream, and the pitfalls she experienced, led to decades of exploration and study of human behavior and the role emotions play in our lives.
Now a trainer, leadership coach, speaker, and specialist in the field of Emotional Intelligence, she has helped project managers, executives, CEO's, and more benefit from one of the most valuable, and often underutilized, aspects of a successful career – their emotions. Her book EMOTIONS An Owner's Manual is the foundation for this course.
Creator of the innovative WINGS Professional Success Program*, Joie offers easy-to-apply information and tools that enable professionals to advance their careers, gain promotions, and impact their work environment positively. Her past participants have reported increased confidence, sense of authority and respect among co-workers, less stress, and the ability to inspire his or her team to get the job done with positive cooperation and expediency.
She holds a B.A. in Humanities and an M.A. in Somatic Counseling Psychology. Somatic psychology has a scientific foundation that incorporates aspects of neuroscience, molecular biology, and the autonomic nervous system and the role it plays in our psychological state.
A master improvisation teacher, Joie was a professional actor, acting teacher and workshop leader for thirty years in Los Angeles and San Francisco. Improvisation teaches you how to think on your feet and deal with whatever is thrown at you, whether it's a disaster or a sudden opportunity. In addition to teaching Emotional Intelligence, she has developed workshops that teach business professionals how to express themselves in authentic and compelling ways, whether in public speaking, networking, being interviewed, or facilitating a meeting.
An active member of the Bay Area business community, Joie served on the board of ICF-San Francisco Bay Area Coaches for many years. She has coached clients at NASA, AT&T, Wells Fargo, Dolby, Project Management Institute, Blue Shield and many more.
Joie's coaching talent lies in her ability to get to the heart of the matter quickly. She guides participants to take progressive steps that connect big picture goals with day-to-day decisions and communications with team members, stakeholders, and colleagues.
*WINGS: Wholly Integrated Navigation and Growth System
Frequently Asked Questions
Will the live conference calls be recorded?
All course live events will be recorded. You may watch the video or listen to an audio recording of the calls online at your convenience.
Will I have access to the course after it has ended?
Yes, you will have 3 months following the course completion date to review all content, take notes, engage with your classmates in the forum, and download handouts and audio files that you may have missed.
What if I'm new to online learning?
Our helpdesk team will be here to help walk you through the classroom and assist you with any technical questions you may have. You will be comfortable with the classroom in no time.
I have a busy schedule, what if I fall behind?
This course has been crafted with active schedules in mind. The self-led portion is available 24/7 for you to access at your own pace and schedule within the course presentation timeframe.
How much time does the course take each week?
We estimate that it takes approximately 60-90 minute a week to participate fully in the course. There will be an additional four 60 minute live class conference calls.
Will I have direct access to the faculty?
Yes. At multiple intervals during the course, there is a live conference call and you are invited to participate in the Q&A/discussion period. Additionally, the faculty will participate in forum and chat conversations with you and your fellow classmates.
Will I have interaction opportunities with fellow participants?
Yes. Course participants are encouraged to comment on each other's postings in an online forum, and it's recommended to practice the methods taught with study partners. Online messaging tools enable private and group communications between faculty and participants.
Can I earn Continuing Education Units?
This course does not offer a continuing education credit option at this time.
8-Weeks Online
Oct. 18, 2021
Tuition $529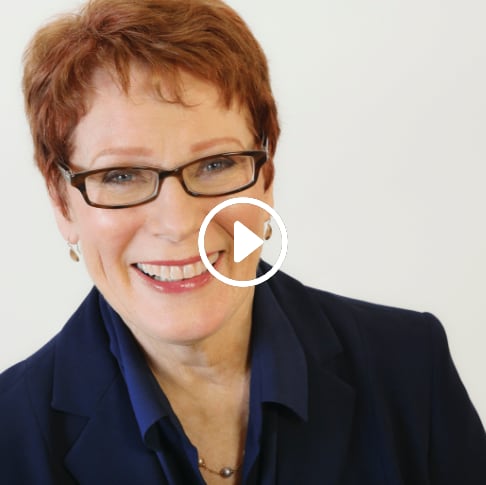 What's Included
---
16 hrs Est. Course-time
36 On-Demand Videos
4 Live Online Events
Core Platform Features
---
Participant Profile
Community Directory
Advanced Content Search
Course Progress Tracking
Resume Previous Session
Certificate of Completion
Mobile Access
Sale Price: $429
Course Tuition: $529

Discount Ends Dec 6, 2021
Group Registration
---
(650) WELLNESS
(650) 935-5637
Friend: Save 10%
Teams: Save 15%+

Schedule a Demo
---
Take a closer look and schedule a demo with one of our course advisors.


$429/$529

Community Engaged Learning

8 Weeks online, scheduled with a group

16 hrs Course-time

Self-paced video instruction

Reading content & exercises

Handouts & resources

Class comments & forum

User Technical Support

Instructor-led Community

4 Live online events

Instructor correspondence

Weekly email reminders

Private online journal

Peer-to-peer messaging

Group exercises

Study Groups

Next session starting: Oct. 18, 2021

* Discount Ends Dec 6, 2021
Group Registration
And Volume Pricing
Quote

Corporate Discounts Available

Schedule a call with an advisor today!

Private Groups

Corporate Training

On-Site Workshops

Personalized Coaching

Co-Branding Options

White-Label Licensing

* On-Demand + Instructor-Led Options