Decision making is one of the most challenging aspects of leading, as we never have all the information we need and yet we still need to act. Research shows that leaders and teams who incorporate intuition into the decision-making process make better and faster decisions that impact all areas of the business.
Super Power Your Decisions, based on Rick Snyder's book, Decisive Intuition, guides you to access intuition through a scientifically-proven process that results in relevant and practical applications for any business dilemma. This course will help spark innovation and create a more adaptive, agile company culture that is able to think outside-the-box with leading-edge solutions to your top challenges.
What to Expect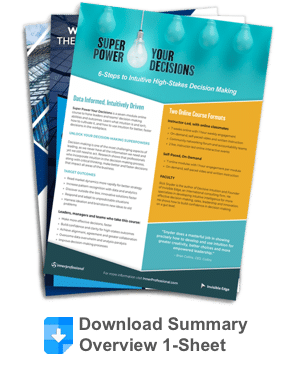 Super Power Your Decisions is a 7-week, online course. Each module includes an average of 60 minutes of instruction and practice per week. Students will engage in on-demand lectures, hands-on exercises and direct application in your business and personal environments. The learning experience will be enhanced by online Q&A and live interaction with the teacher and fellow students.
Key Principles
There are many incredible benefits to developing your intuitive intelligence as a modern-day leader, including:
Making better choices in the most critical areas of your business
Enjoying more fulfilling relationships in all areas of your life
Building a deep and trusting relationship with yourself
Allow new creativity and innovation to flourish
Gain clarity on your most fulfilling purpose and path
Be less affected by stress and strong emotional states
Improve communication
Learning to tune into your environment for more informed decisions
Who This is For:
This course is for individuals and organizations of all types and sizes who want to trust and empower their decision-making abilities and add more value to their teams, departments and organizations.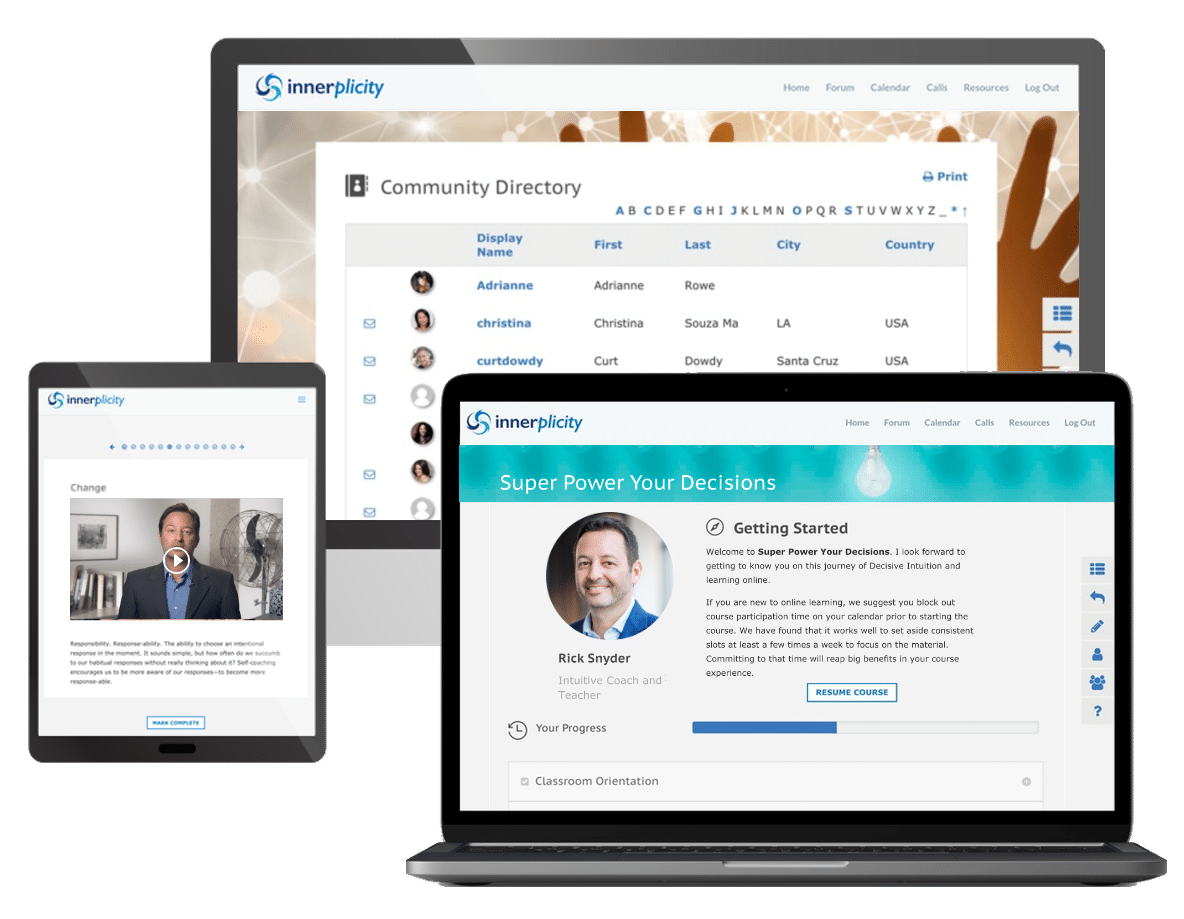 Testimonials:
"Snyder does a masterful job in showing precisely how to develop and use intuition for greater creativity, better choices and more empowered leadership."
~ Brian Collins, CEO, Collins
"This course has helped us to push through mental blocks (real and imagined) and helped make change much more achievable by breaking down success into small, digestible steps. Given today's technology, it is as if Rick is right down the hall."
~ Jim Hacking, Owner, Hacking Law Practice LLC
"With incredible intuition, and an obvious level of care, Rick skillfully cuts through the noise to help you reach deeper than you could ever go on your own, and achieve things you never thought possible. He's a unique individual who thrives on, and excels, at making everyone he touches better."
~ Paul Bauscher, Bauscher Construction & Remodeling, Inc.
Seven-week online curriculum:
The course covers twelve modules within seven weeks of instruction.
Curriculum includes:
Streamed lectures
Streamed lectures and do-on-your-own exercises from the Internet, including self reflection questions.
Download Materials
Download links of course reading material.
Access to Experts
Lectures and access to guest faculty and experts.
Course Instructor
Rick Snyder
Rick Snyder is the author of Decisive Intuition, and the Founder and CEO of Invisible Edge, an international consulting firm that develops intuitive intelligence for leaders and teams for more effective decision-making, sales, leadership and innovation. He speaks to businesses and organizations regularly and has been featured in Forbes, The Economist, Inc., CNBC, and Fast Company, as well as live TV. Beyond consulting, he has launched four businesses and combines that experience with 20 years of studying human behavior to coach leaders to develop and implement intuitive skills into their business plans and company culture.
Frequently Asked Questions
What if I'm new to online learning?
Our helpdesk team will be here to help walk you through the classroom and assist you with any technical questions you may have. You will be comfortable with the classroom in no time.
I have a busy schedule, what if I fall behind?
This course has been crafted with active schedules in mind. The self-led portion is available 24/7 for you to access at your own pace and schedule within the course presentation timeframe.
How much time does the course take each week?
We estimate that it takes approximately 45-60 minute a week to participate fully in the course. The live instructor-led version of the program will include an additional two 60 minute live video web conference sessions.
Will I have direct access to the faculty?
Yes. During the instructor-led version of the course, there are multiple opportunities via the live conference calls. You are also invited to participate in the Q&A discussion period. Additionally, the faculty will participate in forum and chat conversations with you and your fellow classmates.
Will I have interaction opportunities with fellow participants?
Yes. During the instructor-led version of the course, program participants are encouraged to comment on each other's postings in an online forum, and it's recommended to practice the methods taught with study partners. Online messaging tools enable private and group communications between faculty and participants.
Participants are also encouraged to identify two other team members to form a small accountability group to increase success in applying the techniques learned throughout the program.
Can I earn Continuing Education Units?
This course does not offer a continuing education credit option at this time.
7-Weeks Online
On-Demand
Tuition $379.00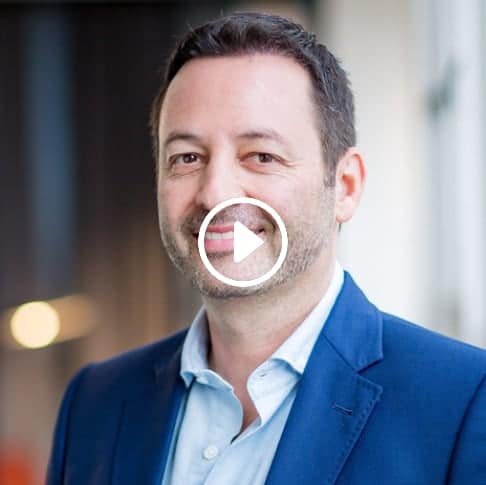 What's Included
---
6hrs Course Engagement
45 On-Demand Videos
Experiential Exercises
Additional Benefits
---
Extra Articles & Resources
Course Progress Tracking
Resume Previous Session
Certificate of Completion
Mobile Access
Group Registration
---
(650) WELLNESS
(650) 935-5637
Friend: Save 10%
Teams: Save 15%+

Schedule a Demo
---
Take a closer look and schedule a demo with one of our course advisors.


$379.00

Self-Paced for Individual Learners

7 Online modules, at your own pace

6hrs Course-time

Self-paced video instruction

Reading content & exercises

Handouts & resources

Class comments & discussion

User Technical Support

Program starts: On-Demand
Group Registration
And Volume Pricing
Corporate Discounts Available

Schedule a call with an advisor today!

Private Groups

Corporate Training

On-Site Workshops

Personalized Coaching

Co-Branding Options

White-Label Licensing

* On-Demand + Instructor-Led Options