As a leader, how skillfully do you inspire others?
Learn how, through developing your own deeper self-awareness, you will widen your influence, empower others and cultivate a culture of growth, insight, clear vision and collaborative sense of purpose.
Leading a Coaching Culture offers pathways to inspirational leadership, based on Rebecca Watson's vast executive coaching experience and her books, Conscious Leadership and Creating High Performing Teams.
➤ This course teaches leaders key skills that will allow them to lead from a higher mindset, more efficiently, with more clarity, purpose and positive communication, resulting in greater team impacts and satisfying outcomes.
➤ Course essentials include core coaching skills, self-awareness and awareness of others' diversity, managing emotions, having difficult conversations, understanding how leaders shape culture, and systemic problem solving.
What to Expect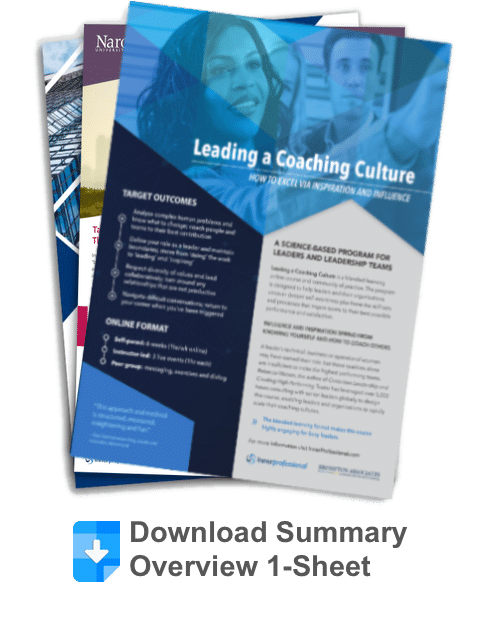 Leading a Coaching Culture is an online course, presenting an average of 60 minutes of instruction and practice per week, over a period of six weeks. The blended online training method includes three live, instructor-led discussion and practice groups, plus self-paced, on-demand video training, hands-on exercises, and optional peer-to-peer classmate accountability partners for reinforcement.
Who is this for?
Anyone leading a team from First Line Managers to Senior Leaders who want to inspire others to naturally follow and give their best.
Project and Program Leads who need to influence others.
Senior Leaders from the same organization looking to develop a Coaching Culture.
Outcomes
Learn how to:
Define your role as a leader and maintain good boundaries
Move back to a centered place when you've been triggered
Tap into the information transmitted through your emotions
Coach your team for high performance
Move from 'doing' the work to 'leading' and 'inspiring' others
Run effective and efficient team meetings
Turn around any relationships that are not productive
Respect diversity of values and lead collaboratively
Have difficult conversations
Create high performing coaching cultures
Analyze complex problems and understand what needs to change
Key Principals
This course is the amalgamation of over 15 years of coaching leaders and their teams across a wide variety of industries.
"The work I have done with Rebecca has probably been the single most valuable thing I have done in my professional career development." ~ Fiona Tyler, Head of GESBAN UK, Santander Bank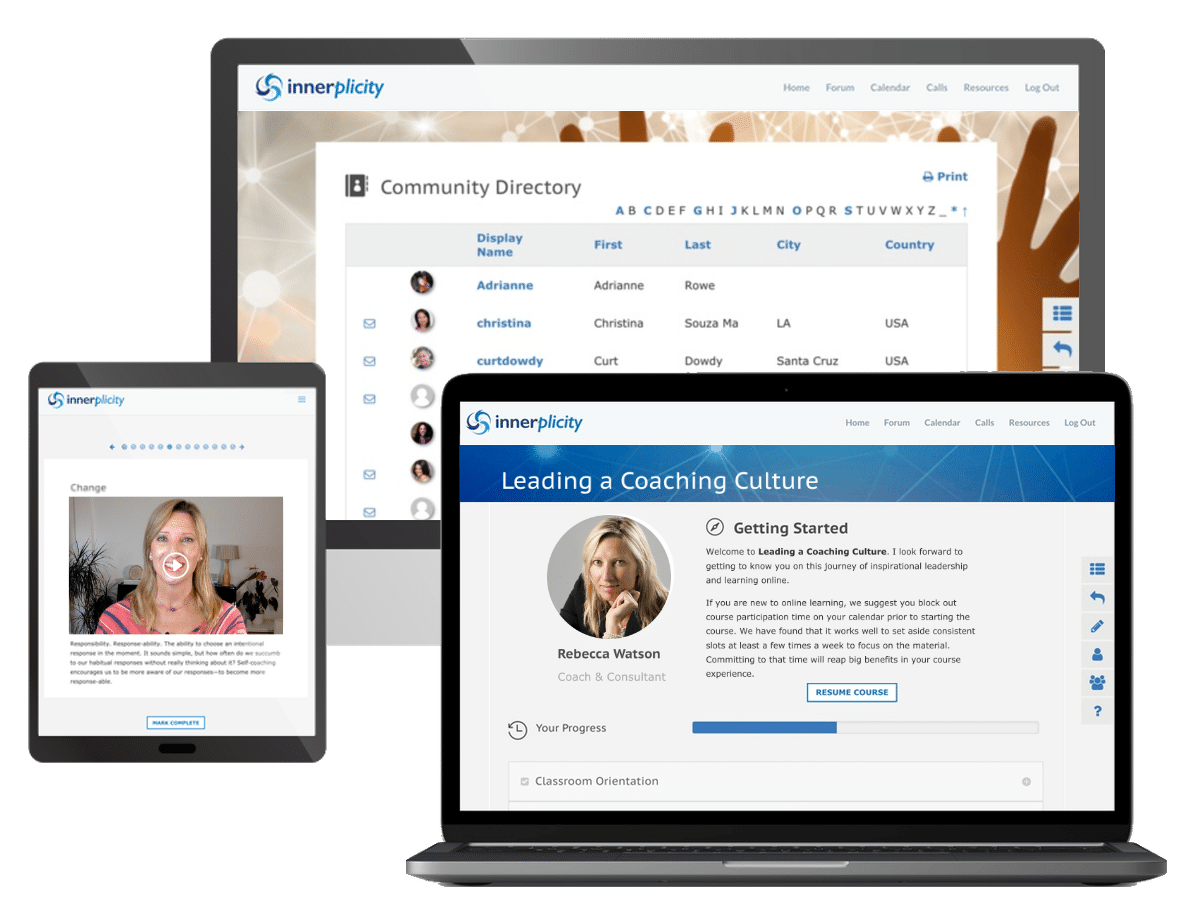 Successful Mindsets
A key principal of this course is the concept that our thoughts are creating reality. It is necessary for leaders to learn how to monitor their own thoughts in any given moment (about themselves, their own capability, other people and their organization) and be aware of how these thoughts influence the team's behaviors.
During the course Rebecca introduces common leadership mindsets and behaviors that lead to high performing, happy teams and cultures. She also highlights common pitfalls that lead to low performance and exhaustion, plus frustration for that leader.
Once we are well connected to ourselves, we can connect well with others. A vital role for a leader is inspiring others with the desire to follow. In this way there is no need to force others to obey, nor do leaders need to be timid about requiring respect and accountability.
Ultimately, everyone wants to be valued and pursue personal development opportunities. It's important to keep in mind that 'People join organizations but leave bosses'.
"Her approach and method is structured, measured, enlightening and fun," ~ Paul Bartholomew-King, Leader and Innovator, Mastercard
Managing Teams
Once leaders have good one-to-one relationships, they need to manage the group relationship. Meetings are a common time waster in organizations. We teach leaders how to have efficient and effective meetings.
It's the leaders in an organization that create the culture. Therefore, this course is also designed to help organizations create Coaching Cultures where everyone can benefit.
This course takes a whole systems approach to the individual as well as the organization and its place in society. Beyond simply transmitting knowledge, we present an integrated approach to learning that also includes the energetic body, emotions and greater purpose/contribution.
"It's about a different way of thinking and motivation that really set Rebecca apart from the rest." ~ Matthew Pickup, Director, TME Digital
"I am much more self-aware, centred and stronger as a result of our work together. Rebecca is challenging, professional but also makes you feel comfortable." ~ Rupinder Cheema, Head of Global Business Expansion at Jaguar Land Rover
In each module you will learn the following:
Module 1: Core Coaching Skills
Core coaching skills for Leaders – listening without judgement, being present and grounded and the coaching mindset
Self assessment of current leadership level
Exercise in active listening
Why Leaders who coach, create a coaching culture
Module 2: Self Awareness
The process we all go through that creates our behaviour
What triggers you to an emotional response at work and how to change that
How our emotions guide us in life
Discovering what you could delegate
Live online event #1: Basic Coaching Techniques
Module 3: Building Productive Relationships
The role you are playing in difficult relationships
How to improve key relationships at work
How to have those difficult conversations
The value of diversity
How to build a good relationship with your team
Module 4: Coaching Practise for Leaders
The learning journey we go on and where you/your 'client' might be at any given time
Practise using Core Coaching Tools
Reasons we struggle to reach our goals
How to move out of the victim role
Live online event #2: Coaching for High Performance
Module 5: Leading Teams
The role of a Leader
How to create high performing teams
How to lead efficient and effective team meetings
Module 6: Leading with Higher Insight
How to effect change/create something new
How to keep momentum of delivery when times get tough
Exercise to rapidly identify blocks to progress
How to receive feedback constructively for continuous improvement
Live online event #3: Advanced Leadership
Course Instructor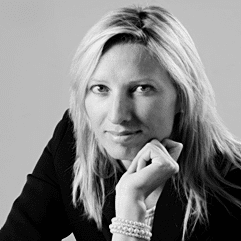 Rebecca Watson
Rebecca Watson has been coaching leaders since 2004. Her professional coaching experience spans over 5000 hours working with hundreds of senior leaders across a range of industries and cultures globally.
Some of her clients include UK Parliament, The RAF, Ernst & Young, HSBC Bank, Swedish Institute of Public Health, LinkedIn, Unilever and Siemens.
Rebecca combines a pragmatic business mind from her days as a commercial lawyer with an understanding that leaders are operating from different levels of consciousness and therefore gaining vastly differing results.
She believes in 'walking her talk' and has a personal practices of yoga, meditation and self-development.
Rebecca is the author of Creating High Performing Teams and Conscious Leadership And The Power Of Energetic Fields.
She is also a speaker, a visiting professor for London Metropolitan University, and she runs leadership retreats for rapid personal development.
Frequently Asked Questions
Will the live conference calls be recorded?
All course live events will be recorded. You may watch the video or listen to an audio recording of the calls online at your convenience.
Will I have access to the course after it has ended?
Yes, you will have eight weeks following the course completion date to review all content, take notes, engage with your classmates in the forum, and download handouts and audio files that you may have missed.
What if I'm new to online learning?
Our helpdesk team will be here to help walk you through the classroom and assist you with any technical questions you may have. You will be comfortable with the classroom in no time.
I have a busy schedule, what if I fall behind?
This course has been crafted with active schedules in mind. The self-led portion is available 24/7 for you to access at your own pace and schedule within the course presentation timeframe.
How much time does the course take each week?
We estimate that it takes approximately 60-90 minute a week to participate fully in the course. There will be an additional four 60 minute live class conference calls.
Will I have direct access to the faculty?
Yes. At multiple intervals during the course, there is a live conference call and you are invited to participate in the Q&A/discussion period. Additionally, the faculty will participate in forum and chat conversations with you and your fellow classmates.
Will I have interaction opportunities with fellow participants?
Yes. Course participants are encouraged to comment on each other's postings in an online forum, and it's recommended to practice the methods taught with study partners. Online messaging tools enable private and group communications between faculty and participants.
Can I earn Continuing Education Units?
This course does not offer a continuing education credit option at this time.
6-Weeks Online
Apr. 11th
Tuition $569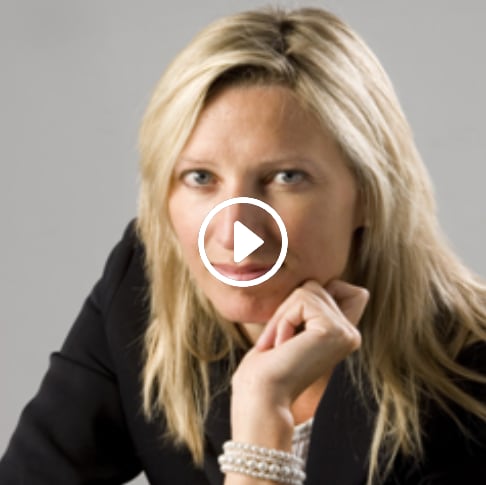 What's Included
---
 8 hrs Est. Course-time
23 On-Demand Videos
3 Live Online Events
Core Platform Features
---
Participant Profile
Community Directory
Advanced Content Search
Course Progress Tracking
Resume Previous Session
Certificate of Completion
Mobile Access
Sale Price: $459
Course Tuition: $569

Group Registration
---
(650) WELLNESS
(650) 935-5637
Friend: Save 10%
Teams: Save 15%+

Schedule a Demo
---
Take a closer look and schedule a demo with one of our course advisors.


$459/$569

Community Engaged Learning

6 Weeks online, scheduled with a group

10 hrs Course-time

Self-paced video instruction

Reading content & exercises

Handouts & resources

Class comments & forum

User Technical Support

Instructor-led Community

3 Live online events

Instructor correspondence

Weekly email reminders

Private online journal

Peer-to-peer messaging

Group exercises

Study Groups

Next session starting: Apr. 11
Group Registration
And Volume Pricing
Quote

Corporate Discounts Available

Schedule a call with an advisor today!

Private Groups

Corporate Training

On-Site Workshops

Personalized Coaching

Co-Branding Options

White-Label Licensing

* On-Demand + Instructor-Led Options