How to Lead When What You Know Doesn't Count Anymore
Is your team of leaders ready for anything? There is no question we are living in one of the most challenging times in recent memory, across all the domains of our lives. In this brief but impactful course, leaders will find the guidance, answers and reassurance to navigate successfully through ongoing change and uncertainty.
What to Expect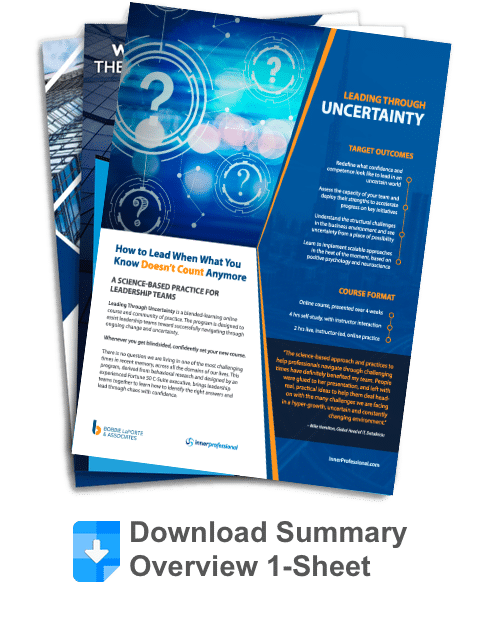 Navigating Uncertainty teaches participants how to cope with one of the most important, yet daunting aspects of being human.
In Leading Through Uncertainty, you will:
➤ Be exposed to a new way of defining and understanding the environment of unrelenting uncertainty we are all experiencing
➤ Learn how to confront the crisis of confidence facing many leaders
➤ Adopt proven, practical, high-impact ideas and approaches you can implement right away.
This course is not about theory; it is about giving you what you need – right now – to be the confident leader you know you can be.
Key Principles
This online instructional experience and community of practice is built on the foundational principles of positive psychology, neuroscience and behavioral science. You'll gain real skills toward better navigating the challenges facing today's leaders in the new world of uncertainty.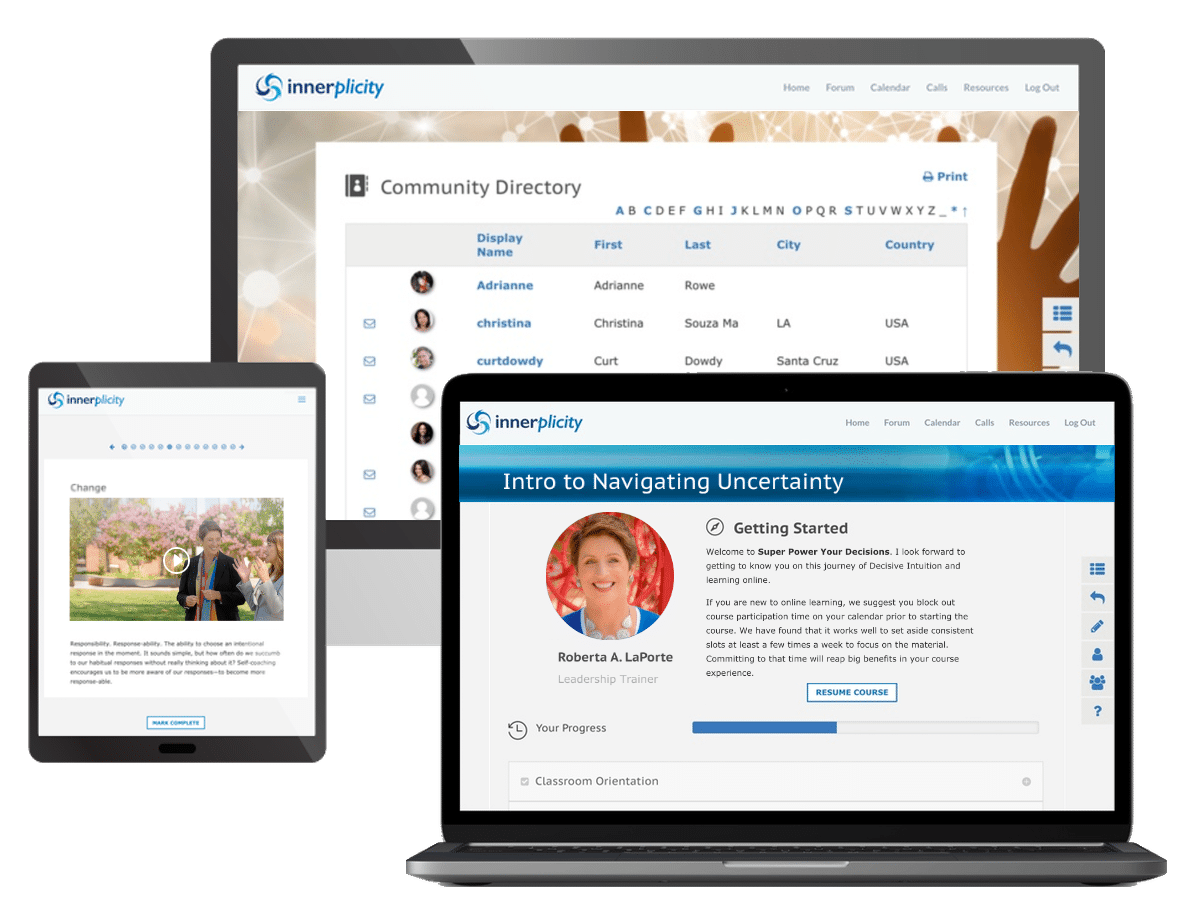 Who This is For:
This introductory course is for leaders who want an inside edge to managing themselves and their teams through times of unrelenting uncertainty. You'll find out how to better normalize the unexpected so you never get caught off guard.
You will learn to:
Understand the major, structural changes in the business environment and see uncertainty from a place of possibility
Redefine what confidence and competence look like to lead in an uncertain world
Assess the capacity of your team and deploy their strengths to accelerate your progress on key initiatives
Use approaches and practices that are science-based, scalable and easy to implement in the heat of the moment
Client Testimonial
I have invited Bobbie to present two workshops to our West Region Sales Team on 'Creating a Strategic Approach to Sales', which is so relevant in our competitive and disruptive environment. Her experience as a successful sales executive together with a science-based approach to developing a possibilities mindset has helped our team consistently exceeded our sales targets. Thank you, Bobbie, for giving us the competitive edge we need.

– Sara Coady, Group Vice President, Enterprise Sales, New Relic
Learning Objectives
This course includes four modules of approximate 12 brief lessons that take you from a foundational understanding of today's uncertain business landscape, to practical approaches and techniques that are specific to your organization.
You will:
➤ Have the opportunity to connect with a community of executives who are facing the same leadership challenges
➤ Have access to the course author for live "Ask Me Anything" events
➤ Create a record of personal reflection that will continue to guide you as you lead through uncertainty every day.
Preview Lesson
Example Module
Client Testimonial
Bobbie presented an excellent workshop on "Positive Leadership: Navigating Through Uncertainty" at our 2019 offsite. I have been a fan of Bobbie's work in the Positive Leadership arena ever since she introduced me to this exciting new discipline two years ago. Her science-based approach and practices to help professionals navigate through challenging times have definitely benefited my team. People were glued to her presentation, and left with real, practical ideas to help them deal head-on with the many challenges we are facing in a hyper-growth, uncertain and constantly changing environment.

– Mike Hamilton, Global Head of IT, DataBricks
Course Instructor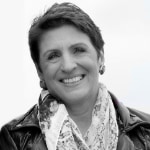 Roberta A. LaPorte
Roberta (Bobbie) LaPorte, is Founder and CEO of Bobbie LaPorte & Associates, a consulting firm providing leadership and organizational development services to Fortune 500 companies, global organizations and promising start-ups.
Before founding her consultancy, Ms. LaPorte served in CEO, COO and CMO roles in several Fortune 50 companies, including IBM, GE and United Healthcare, and also led two healthcare technology start-ups. She has an MBA from Harvard, and a Masters in Positive Leadership and Strategy from IE in Madrid.
Her current focus is on helping leaders and organizations manage through change and uncertainty. Drawing on positive psychology, neuroscience and behavioral science, she provides a practical approach to building the confidence and personal resilience leaders need to be ready for anything. Bobbie offers this break-through program through workshops and keynotes, enterprise-wide learning programs and 1:1 executive coaching and advisory services.
Bobbie is currently training for her seventh Ironman triathlon. When she is not coaching executives she proudly serves on a number of Bay Area non-profit boards and happily rescues senior Golden Retriever dogs.
Frequently Asked Questions
I'm new to online learning, how does this process work?
Your course material is housed in the virtual classroom, a password-protected area where students watch the videos, connect on the forum, and get information on all course-related material.
Will I have access to the course after it has ended?
Yes, you will have eight weeks following the course completion date to review all content, take notes, engage with your classmates in the forum, and download handouts and audio files that you may have missed.
What is the Schedule and Time Commitment?
This course includes between nine to eleven lessons split up in to four modules with a few assignments to customize and apply course content, an optional discussion forum and two "live" instructor-led online events. The estimated total time to complete this course is approximately six hours.
What if I'm new to online learning?
Our helpdesk team will be here to help walk you through the classroom and assist you with any technical questions you may have. You will be comfortable with the classroom in no time.
I have a busy schedule, what if I fall behind?
This course has been crafted with active schedules in mind. The self-led portion is available at your own pace and time schedule. Once any individual course module has been opened, it is available throughout the course for you to review, catch up or just revisit at any time.
How much time does the course take each week?
We estimate that it takes approximately one and a half hours a week to participate fully in the course.
Will I have direct access to the faculty?
Yes. At three intervals during the course, there is a live conference call and you are invited to participate in the Q&A/discussion period. Additionally, the faculty will participate in forum and chat conversations with you and your fellow participants.
Will I have interaction opportunities with fellow participants?
Yes. Course participants are encouraged to comment on each other's postings in an online forum, and it's recommended to practice the methods taught with study partners. Online messaging tools enable private and group communications between faculty and participants.
Can I earn Continuing Education Units?
This course does not offer a continuing education credit option.
4-Weeks Online
Nov 8, 2021
Tuition $529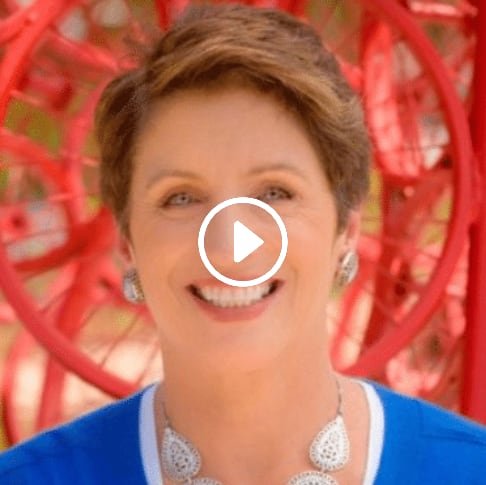 What's Included
---
6hr Course Engagement
24 On-Demand Videos
Experiential Exercises
Additional Benefits
---
Extra Articles & Resources
Course Progress Tracking
Resume Previous Session
Certificate of Completion
Mobile Access
Sale Price: $449
Course Tuition: $529

Discount Ends Oct 11, 2021
Group Registration
---
(650) WELLNESS
(650) 935-5637
Friend: Save 10%
Teams: Save 15%+

Schedule a Demo
---
Take a closer look and schedule a demo with one of our course advisors.

Online Instructor-Led Course

$4,975

Community Engaged Learning

Includes Ongoing Community Access

2hr Course Time

Self-paced video instruction

Instructor correspondence

Peer-to-peer messaging

Private online journal

Email reminders

Teams of 10-25 Participants
$449/$529

Community Engaged Learning

4 Weeks online, scheduled with a group

6hrs Course-time

Self-paced video instruction

Reading content & exercises

Handouts & resources

Class comments & forum

User Technical Support

Instructor-led Community

2 Live online events

Instructor correspondence

Weekly email reminders

Private online journal

Peer-to-peer messaging

Group exercises

Accountability Teams

Next session starting: Nov 8, 2021

* Discount Ends Oct 11, 2021
Large Groups
And Volume Pricing
Quote

Corporate Discounts Available

Schedule a call with an advisor today!

Private Groups

Corporate Training

On-Site Workshops

Personalized Coaching

Co-Branding Options

White-Label Licensing

* On-Demand + Instructor-Led Options